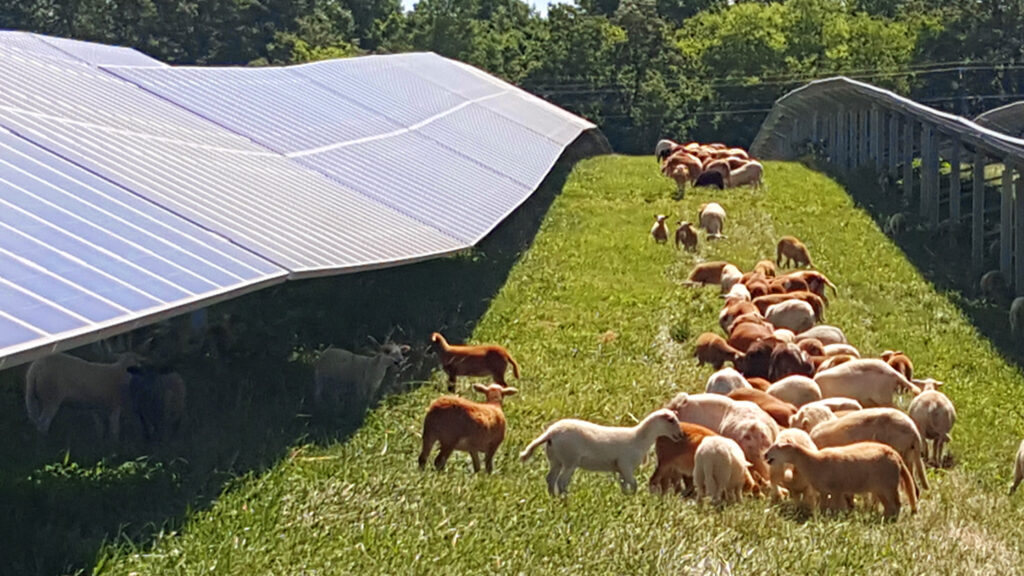 Solar Panel Decommissioning Fact Sheet
This fact sheet is meant to provide information about solar decommissioning as questions come up about end of life management best practices. The useful life expectancy of solar PV panels is between 20-25 years so in North Carolina most of the decommissioning process will occur between the mid 2030s to 2040.
Note that a solar land lease is a legally binding contract between a private landowner and a solar PV company that sets out the rights and responsibilities of the parties to that contract. Almost all of the legal contracts between a landowner and solar developer cover the decommissioning process and include a requirement to return the land to its original condition.
Can solar panels be recycled?
Yes, it is possible to recycle most solar panels.
In fact, there is a national network of recycling facilities that accept and can process solar modules. Recent federal infrastructure policy has allocated funding aimed at building out a domestic recycling program for advanced energy technologies so that we can have processes in place when panels come to the end of their useful life. First Solar is the only solar manufacturer that has developed in-house recycling capabilities. Upon recycling, the company is able to reuse or repurpose more than 90% of the materials in its cadmium telluride panels, including the semiconductor material, which is reused to produce new solar panels.

By weight, most solar panels are around 80 percent glass and aluminum which are easy components to recycle at general-purpose recycling centers. Solar panels also contain at least one rare or precious metal which may be recycled at the end of its useful life. Metal racking, framing, copper wire, and other equipment may offer scrap value that can offset decommissioning costs. A study by the International Renewable Energy Agency has estimated that $15 billion worth of raw materials may be recovered by 2050 when the first installed solar panels reach end-of-life.
North Carolina's Department of Environmental Quality (DEQ) operates a Recycling Markets Directory that may help identify companies that recycle and enable reuse of non-hazardous solar panels; there are currently three solar recycling companies in North Carolina (Metech, TT&E Iron & Metal Inc., and United Scrap) and one in South Carolina (Cleanlites). Capacity for solar recycling is still developing and will continue to grow as more panels reach end-of-life.
Do we need to consider solar as a type of hazardous waste for disposal?
No, solar energy is not a type of hazardous waste for disposal.
However, there are hazardous materials in the panels, much like hazardous materials in objects we are all familiar with such as TVs, cell phones, and computers.
There have been questions about what happens when solar panels reach the end of their useful life. Primary concerns center around how to manage any hazardous materials contained in solar modules. In the United States, end-of-life of hazardous materials is governed by the Federal Resource Conservation and Recovery Act (RCRA) and state-level policies. Toxicity Characteristic Leaching Procedure (TCLP) testing can be applied at disposal or end-of-life to determine regulation as solid waste or hazardous waste. North Carolina's Department of Environmental Quality (DEQ) has requested that the American Society for Testing and Materials (ASTM) develop a sample prep method for the TCLP test, which will standardize how samples must be prepared prior to TCLP testing.
What is the current management practice for solar module disposal?
Solar panels installed in North Carolina may contain trace amounts of potentially hazardous components, mainly older panels that used lead solder. Lead solder has been used in many electronic, transportation, and medical applications – its application is not unique to PV products. The vast majority of installed panels in North Carolina pass the TCLP test – these may be disposed of in municipal solid waste landfills in accordance with local regulations. Those that are hazardous must be managed according to applicable hazardous waste laws and regulations; for example, metal circuit boards from panels that contain lead and are also determined to be hazardous may be sent to electronics recycling programs.
Can solar panels be utilized at the end of their commercial useful life?
Yes, solar panels can be utilized at the end of their initial commercial life.
Studies by NREL conclude that, "As far as the productive life of a solar panel, there are no end-dates per se. However, modules are typically warrantied for 20–25 years, after which they can still produce electricity, but the level of actual output is no longer guaranteed."
Like electronics and automobiles, a market for used panels is quickly developing for solar. As older solar moves on to secondary markets, breakthroughs in solar technology follow a path similar to Moore's law, on average doubling in efficiency every two years.
Few active solar projects are near the end of their useful life, so there are not many domestic systems that have been decommissioned. North Carolina was an early leader for utility scale solar, and has developed regulations surrounding decommissioning sooner than many other states. At the direction of the NC General Assembly, the North Carolina Department of environmental quality convened a one year stakeholder process. The recommendations of that process were adopted in January 2021.
It is important that system owners, landowners, and local regulators have a clear way to understand the decommissioning process for each project, like having a decommissioning agreement on file at the jurisdiction governing the project permits.
What legislative and regulatory activity have we seen in North Carolina around decommissioning?
In 2019, the N.C. General Assembly passed House Bill 329 to study options for end-of-life utility-scale PV management. DEQ released a 2021 report based on this study to guide future rulemaking around solar decommissioning. The report:
Estimated that North Carolina's 4,000 MW of installed solar capacity will double in the next five years;
Estimated that 8.5 million PV modules will be decommissioned between 2036 and 2040;
Defined what qualifies PV waste as non-hazardous vs. hazardous;
Requested that the American Society for Testing and Materials develop a national standardized sample preparation method for PV waste undergoing TCLP testing ;
Established an order of preference for managing retired/end-of-life PV modules (direct reuse, refurbishment/repair for reuse, recycling if reuse/repair are not feasible, and disposal);
Anticipates a future rulemaking proceeding with DEQ and EPA which will define end-of-life PVs as universal waste; and,
Determined that stewardship programs and fees paid by manufacturers may disincentivize solar recycling;
The study provided a number of suggestions for standardizing procedures and supporting future investment in sustainable PV decommissioning. However, it did not address rooftop or residential PV systems and did not mandate adopting any particular rules or regulations.
What legislative and regulatory activity have we seen in the state of South Carolina around decommissioning?
South Carolina's 2021-22 state budget bill contains a section on solar projects. This directs the S.C. Department of Health and Environmental Control (DHEC) to submit regulations to guide management and decommissioning of end-of-life PVs and energy storage system batteries. In developing the rules, DHEC will answer questions similar to the terms defined in the North Carolina report. These include, but are not limited to:
Are PV and related modules non-hazardous or hazardous waste?
What are preferred methods to responsibly manage end-of-life PVs, energy storage system batteries, etc.?
What is the volume of PVs and batteries currently in the state, and what are projections for disposal capacity?
Should manufacturer/installer stewardship programs and fees be established?

DHEC must submit regulations on these matters within 120 days of the effective date of the appropriations act.
Can land be safely used for agriculture or other uses after hosting a facility?
Yes, land used for solar facilities may be used simultaneously with crops and livestock as well as after a facility is decommissioned.
Many farmers use grass eating livestock, particularly sheep, to manage plant growth among their solar arrays. Solar arrays near crops are also ideal areas for pollinator-friendly habitats. "Planting pollinator-friendly vegetation in solar farms provides multiple ecological and economic benefits to stakeholders. Using native plants as ground cover can help recharge groundwater, reduce erosion, and improve soil carbon sequestration," according to a white paper by the Environmental and Energy Study Institute. Six big agriculture states including Minnesota have voluntary provisions for the development of pollinator friendly habitats around solar facilities. Farming and solar are the perfect marriage.