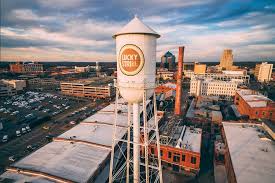 DURHAM, N.C., April 27, 2023 — The Carolinas Clean Energy Business Association (CCEBA) is proud to announce that two of its founding members, Carolina Solar Energy and Pine Gate Renewables, have partnered to develop a solar project in Alamance County that will allow the City of Durham, Durham County Government, and Durham Public Schools (DPS) to offset their power purchases with renewable energy.
The clean energy generated by the 35 megawatt (MW) solar project will offset approximately 50% of the city's, 75% of the county's, and 10% of Durham Public Schools' electricity consumption and will pay significant new property taxes in Alamance County, providing benefits to both areas of the state. Pine Gate Renewables acquired the project from Carolina Solar Energy in 2022 and will complete the financing, construction and operation of the project.
Born and raised in Durham, Carson Harkrader, CEO of Carolina Solar Energy said: "Today's announcement is the fulfillment of many years of careful planning. We could not be more thrilled that this project will supply renewable electricity to Carolina Solar Energy's hometown, as well as bring economic benefits to our neighbors in Alamance County."
"Pine Gate Renewables is pleased to work in partnership with Duke Energy to help the City of Durham, Durham County, and Durham Public Schools achieve their renewable energy goals," said Ben Catt, CEO of Pine Gate Renewables. "As a North Carolina-based company now doing business across the country, we are proud to develop solar sites locally to create positive impacts in communities where our employees live, work and visit."
About Carolina Solar Energy
Carolina Solar Energy is a woman-owned business based in Durham that completed the initial development work on the solar project starting in 2018. Carolina Solar Energy was founded in 2004 by Richard Harkrader, who has lived in Durham with his wife Lonna since the 1970's and was one of the early pioneers of solar energy in North Carolina. Richard played a pivotal role in the passage of North Carolina's Renewable Energy and Energy Efficiency Portfolio Standard (REPS) in 2007, and North Carolina remains the only state in the Southeast to have such a standard. The REPS helped propel North Carolina to one of the top states in the country in installed solar power. Richard's daughter, Carson Harkrader, took over Carolina Solar Energy from him in 2018 and led the development of the project that will sell power to Durham. For more information, visit: carolinasolarenergy.com.
About Pine Gate Renewables
Pine Gate Renewables is a leading renewable energy company focused on development and strategic financing of solar and storage projects throughout the United States. From coast to coast, Pine Gate Renewables owns and operates renewable energy-generating projects that create a positive impact on local communities and the nation's environmental footprint. Headquartered in Asheville, N.C., Pine Gate Renewables debuted at #37 on the Inc. 5000 list in 2021 and was named to Fast Company's Most Innovative Companies list the same year. For more information, visit pinegaterenewables.com.