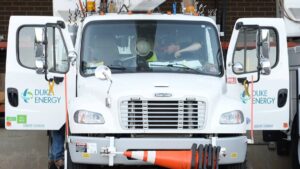 Half a million people in the Carolinas were without power on Christmas Eve after Duke Energy implemented rolling outages during one of the region's coldest holiday weekends in recent years.
The Charlotte Observer, Tuesday, January 3, 2023
By John. D. Burns
Christmas weekend, over half a million Carolinians found themselves without power during one of the coldest snaps in recent memory.
For hours at a time on Christmas Eve and Christmas Day — even though most factories and businesses were closed and not using power — hundreds of thousands of people in North and South Carolina celebrated a dark and cold holiday while Duke Energy appealed to other customers to reduce their power usage to save the grid and avoid further outages. While some neighborhoods were dark due to the high winds causing power lines to fall, most of the blackouts were "rolling blackouts" used by Duke Energy to control the demand on its system.
Duke Energy customers have a right to know why this happened. Similar failures by Texas utilities in 2021 cost 246 Texans their lives. As of now, we do not know how close the Carolinas came to a similar catastrophe.
In response, some political pundits left their holiday gatherings to write articles blaming the rolling blackouts on the transition away from coal to clean energy. These claims have no basis in truth or fact.
The truth is the energy system that serves North Carolina is almost exclusively based on fossil fuel and nuclear energy. Duke Energy, through decades of monopoly operation of our power system, has assured regulators that in times of high demand "reliable and dispatchable" fossil-fuel resources will respond. That is the system that failed on Christmas Eve.
North Carolina has, for over a century, allowed monopolies to control energy and build the grid that they see fit. That system failed, despite arguments that these "reliable and dispatchable" coal and gas burning units are more readily available at times of high demand.
In 2021, the N.C. General Assembly passed the bipartisan House Bill 951, which requires the North Carolina Utilities Commission to develop a carbon plan to reduce carbon dioxide produced by North Carolina's power plants by 70% by 2030, and to achieve net zero carbon dioxide by 2050.
Some organizations have opposed this law and clean energy policy from the beginning, instead calling for maintaining the status quo — a system that relies on dirtier sources of energy, and that failed to keep the lights on this Christmas. Ignoring the facts, these voices wasted no time blaming this weekend's events on a carbon plan that had not even been written yet.
The truth is solar performed exactly as forecast, keeping the disaster from being even worse. The truth is solar and renewable energy lowers your power bill. During the day, solar energy is much cheaper than coal or gas. At night, of course, the sun does not shine, and the energy you use currently must be produced through old-fashioned and dirty fossil fuel sources. This system failed to meet the demand on Christmas weekend, despite Duke Energy having over a week's warning that temperatures were going to plunge.
Clean Energy advocates have another model. It would maximize the amount of inexpensive renewable energy produced in North Carolina and significantly increase investment in modern storage systems. Solar plus storage allows maximum generation of solar energy when the sun shines, storage of the excess, and use of that less expensive energy at other times, or when increased demand requires more supply quickly. We also call for improvements to the grid itself, to allow for new sources of energy and storage to be distributed across the state. We would also increase competition, to make Duke Energy compete for your dollars and purchase energy on a more open and free market.
Contrary to the voices calling for continued reliance on a monopoly burning dirty coal to produce expensive power, our plan will improve reliability and reduce costs, with cleaner air and less impact on our climate. Properly developed, North Carolina will have a modern and reliable electric system, with clean sources of energy keeping future holidays merry and bright.
John D. Burns is the General Counsel of the Carolinas Clean Energy Business Association, a nonprofit that represents the interests of renewable energy companies and their customers in the Carolinas.