CCEBA recently sat down with the Carolina Solar Services (CSS) leadership team to discuss how CSS got started, their services, and how they see themselves fitting into the clean energy transition.
Question: How did Carolina Solar Services get started?
Carolina Solar Services (CSS) was founded in 2014 by Zack Hobbs with a focus on electrical and vegetation maintenance services for North Carolina PV power plants. Since then, CSS has expanded its service territory to five states and added other clean technology assets like Battery Energy Storage Systems (BESS) and Electric Vehicle (EV) fast charging. The company is unique amongst its competitors in that they are proudly independent: CSS has been employee owned since early 2023. In fact, Zack sold a portion of the company to his employees to form a Employee Stock Ownership Plan (EOSP). Furthermore, CSS is a certified B Corporation, a designation that signals a company meets high standards of performance and accountability.
With nearly a decade of experience with clean energy assets, CSS understands that successful operation and maintenance of systems requires diligence, industry knowledge, and deep technical understanding of their components, performance, and reliability. CSS takes great pride in ensuring that #clean technology assets work throughout their lifetime.
Photo #1: CSS team running through a job site analysis. Safety is a big priority at CSS.
Question: What does Carolina Solar Services do and what services do you provide?
Broadly, Carolina Solar Services is in the business of making sure that clean energy technology assets are well-maintained and operate for their expected life. CSS has three different types of services for clients: (1) field maintenance; (2) remote operations and analysis; and (3) special projects.
In the area of field maintenance, the CSS team provides rapid response preventative and corrective maintenance for #solar power plants, #energy storage, and #electric vehicle charging networks. CSS collaborates with clients to minimize downtime, ensure equipment access, and maximize asset operations for their expected life.
The remote operations and analysis team specializes in remote monitoring of asset data to measure performance, diagnose system issues, troubleshoot, and answer client questions without ever stepping foot on-site. The analyses prevent lost time and resources, ensuring that the appropriate field technician is dispatched and equipped with the insight to correct project issues where necessary. CSS' engineers deliver specialized analysis to optimize the production capabilities, monitoring, and data acquisition on a new or operating sites outside of the typical alarm management scope of work.
Finally, CSS has a special operations team that tackles problems and design solutions for projects outside the scope of standard operations and maintenance. A team of traveling specialists is available to work on shorter-term projects across the United States. Offerings include everything from repower design and installation to site decommissioning.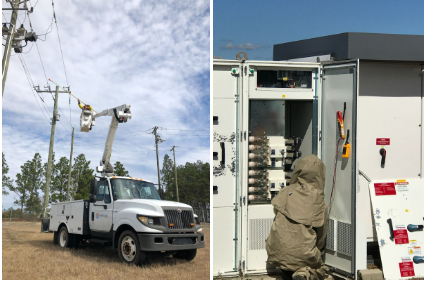 Photo #2: CSS performing corrective maintenance on a central inverter
Photo #3: CSS performing maintenance on medium voltage equipment. Specialized teams perform work including transformer maintenance and medium voltage work.
Question: How do you see your role in the clean energy industry moving forward?
As the industry ages, CSS sees itself as critical for a project's life cycle needs. The company's expertise comes from years of experience and long-term data collection on hundreds of projects. That collective knowledge advises clients on everything from equipment choices and site-layout to project maintenance best practices. The industry's success depends on smart, experience-driven decision making to drive its future.
Photo #4: On-going maintenance for a solar array in Oregon
Question: What are the most important factors developers should be thinking about to ensure successful projects?
There are several things developers need to keep in mind. First, with operations and maintenance, you get what you pay for every step of the way. Developers benefit from a partner at the outset – to inspect and advise during the planning and construction phase; assist during commissioning; and review data and equipment at final completion so that a site produces at its optimum rate. CSS sees itself as that partner to ensure your project's continued functionality throughout its life cycle.
Second, financial models for solar assets need to account for future uncertainty, especially with climate change. Historical weather data cannot accurately predict weather thirty years in the future anymore. In addition, clean energy assets do not necessarily operate in the field as they would in laboratory conditions. CSS has found a need to reevaluate and recreate models that better match an actual site environment.
Finally, the industry has seen a higher than expected turnover of equipment manufacturers. CSS often responds and troubleshoots equipment abandoned by the original equipment manufacturer.  When this happens, an asset has decreased production over its lifetime because parts and service training are non-existent. Planning for potential repowering projects or additional downtime as the site ages would be prudent for long-term asset ownership. CSS has a broad knowledge base and relationships with specialized partners, which allow them to find and engineer solutions to unexpected equipment deficiencies.
–
CSS' vision is for a carbon-neutral future when renewables are the cornerstone of our electric grid. We have the experience and data-driven approach to impact decision-making for renewable assets, from initial planning to decommissioning. As stewards of the environment, our team strives to maximize the impact of every power plant we service through an independent and human focused approach. CSS is expanding its footprint in clean energy both in service geography and service offerings and looks forward to sharing these additional opportunities in the future.
For more information about CSS, contact Meredith Fowler at [email protected].