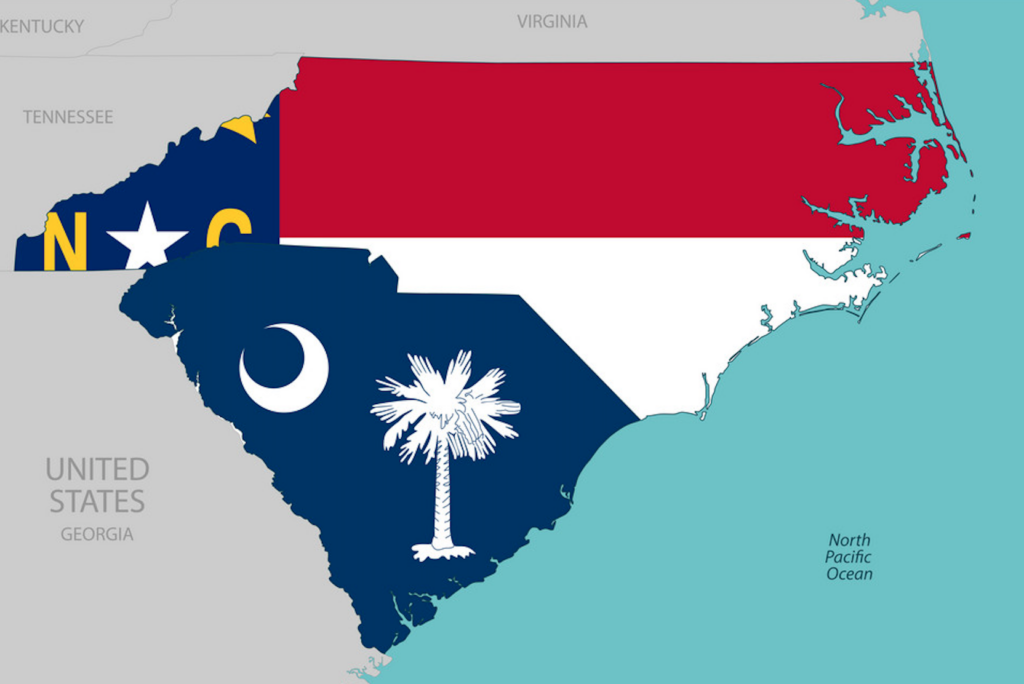 The Carolinas' Energy Landscape
North Carolina and South Carolina share many similar characteristics. Their geography and climate, for example, mirror each other in terms of heat, storm impacts, and the Atlantic and mountains of their east and west borders. The states share major highways, and are served by the same electric transmission lines controlled largely by Duke Energy. Their energy economies are inextricably linked. North Carolina is a net energy importer from South Carolina, which supplies much of the energy for both states in the form of nuclear power.
Both states have a vested interest in ensuring their energy systems use safe technologies and serve their customers reliably. Their economies are both energy-intensive: North Carolinians consume 5,260 btu per dollar of GDP (GDP sits at $497.3 billion), while South Carolinians consume 8,070 btu per dollar (GDP at $207.2 billion). The significant manufacturing and industrial sectors account for nearly 21 (NC) and 32 (SC) percent of energy consumed. North Carolina ranked as the fifth-largest manufacturing state in America as of 2019, with production in the machinery, food and beverage, steel, and chemical industries. South Carolina has seen manufacturing growth of eighteen percent over the past decade, the second-largest growth in the Southeast. The state's industrial focus is dominated by automotive manufacturing.
Cost Concerns
The two states' intense demand makes energy costs paramount to powering their economies, especially when manufacturing depends on energy 24/7. Smaller-scale and residential customers are equally concerned about energy costs. Given the many factors creating upward pressure on prices – including the need for significant new investments in generation, distribution and transition infrastructure – it's imperative that the Carolinas pursue all options available to achieve energy cost savings.
Many legislators and business leaders in both South and North Carolina agree that a competitive wholesale market would yield dramatically lower energy prices and better customer experiences. This sentiment is part of a national rethinking of whether the government monopoly utility approach from a century ago makes sense today. This month, nine former federal regulators wrote a letter urging the Federal Energy Regulatory Commission (FERC) to expand organized, wholesale power markets in the United States. The letter argued that as we move toward more intense grid decarbonization, it is the perfect time to shift toward a "well-structured organized power markets in all regions of the country."
Independent studies, such as modeling by Vibrant Clean Energy, have shown the immense potential for savings should we restructure. For example, an RTO in the Southeast would save $384 billion by 2050, create 285,000 full time jobs, reduce emissions by 37 percent, and provide energy transparency across the region. Another report from The Brattle Group noted that customers in North Carolina alone would save $600 million annually if Duke Energy joined an RTO like PJM. According to the U.S. Energy Information Administration, …"about 60% of the U.S. power supply is managed by RTOs."
In addition, North Carolinians of all political stripes understand that competition on a level playing field yields the best results. According to an August 2020 survey of 600 frequent North Carolina voters conducted by veteran pollster Paul Shumaker:
66 percent of those surveyed favored allowing private sector generation companies (independent power producers) to build generation facilities and sell electricity directly to consumers.
70 percent of those surveyed favored allowing independent power producers to use new technology to store intermittent energy (solar and wind) and dispatch it to compete with government regulated monopoly generation.
80 percent of those surveyed favored allowing private sector power generation companies to compete against each other and utilities to provide electricity based on price and reliability.
The Market Reform Movement
There is strong support in both Carolinas for electricity market reform. Whether that means an energy exchange market, imbalance market, or regional transmission organization (RTO) is yet to be determined. Both Carolinas have pursued study bills to thoroughly examine new market possibilities from a ratepayer point of view. In South Carolina, major spending disasters such as VC Sumner spurred SC Senators Tom Davis and Wes Climer to initiate a bill that creates an energy reform committee. Passed in late 2020, the SC study runs through 2022 and seeks answers around which market structure best improves consumer affordability. Last week, state Representative Murrell Smith and bill sponsor Senator Tom Davis, co-chaired the kick off study committee meeting, during which several legislators expressed their strong support of electric market reform.
North Carolina, though similar in its utility market structure to South Carolina, has not had as much success moving toward reform. State Representative Larry Strickland introduced his latest utility reform legislation in April of this year with bipartisan support. His bill would allow for a combination of experts and stakeholders to support the NC Utilities Commission in determining the best means of market reform and provide guidelines for a well designed transition. However, the bill hasn't moved since its introduction. In late May, Duke Energy opposed action on House Bill 611, calling it "counterproductive" and saying they "do not see the need for a study at this time." Representative Strickland's recent attempt to amend H.B. 951 to add his market reform study was ruled out of order.
A very similar stakeholder proposal emerged in 2020 as part of Governor Roy Cooper's clean energy plan. Governor Cooper's Executive Order 80 created a diverse, two-year stakeholder process involving representatives from utilities and employers to environmentalists and legislators of both parties. The products of this process included recommendations and draft legislation for a NC Utilities Commission examination of how well-designed competition could lower electricity prices for North Carolinians.
As Electricity Costs Go, So Goes Our Future
The cost, reliability, and safety of electrical energy is critical to the economic future of both Carolinas. In a dynamic, capitalist economy, market competition can bring improvements to the price and quality of virtually any good or service. Whether North Carolina is allowed to study what works and what doesn't in electrical service — and whether we are allowed to adapt to 21st century cost saving measures — will determine whether the Carolinas' economies grow or stagnate.